We're hosted a stage at the Royal Academy of Arts December Lates.

Projections, Tapestries, T-Shirts.

Lineup:

PVA (Live)
Glows b2b Rothko Williams b2b Bianca Scout
Jockstrap
4K-Felix Raman, Max Bogotyrow, Madison, Leo Kosuth
The Femme Collective
DJ Dairy (black midi) (Live)
Lore (Live)

Visuals by Felix Bayley Higgins, Jake Vine, GG Skips, Kit Whalley Payne and Ella Laurie

Slow Dance's Glows will also be hosting a hidden sound installation responding to 250 years of the RA's archives.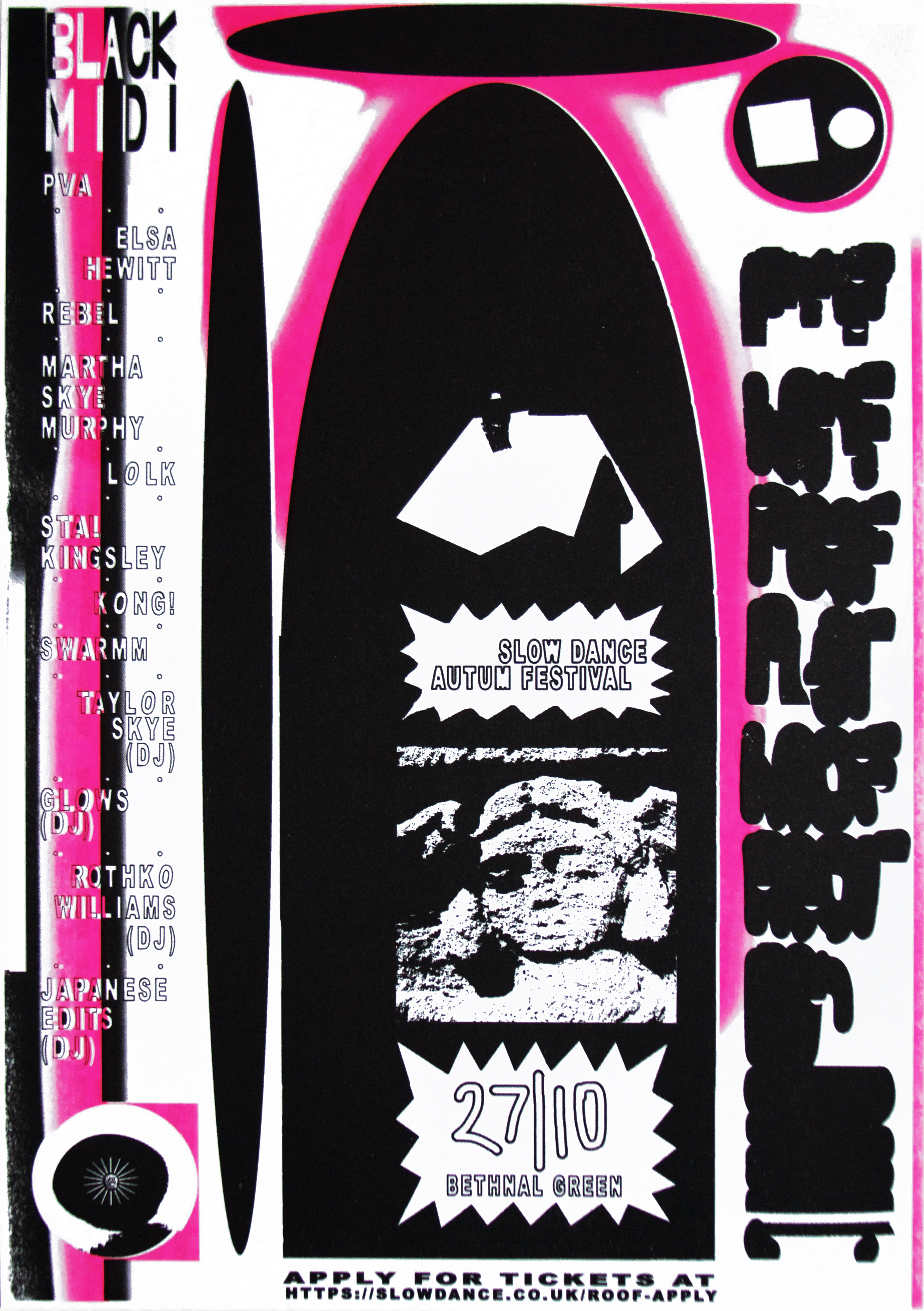 Slow Dance presents:
Slow Dance Autumn Festival
The leaves are falling, Autumn is in full swing, so we are hosting a festival before winter brings us back inside our beds.
A final hurrah
a great time
a festival
Line up:
BLACK MIDI (improv set)
PVA
ELSA HEWITT
THE REBEL (full band)
MARTHA SKYE MURPHY
STAL KINGSLEY
LOLK
SWARMM
KONG!
TAYLOR SKYE (DJ)
GLOWS (DJ)
ROTHKO WILLIAMS (DJ)
JAPANESE EDITS (DJ)
This event is invite only
If you would like to request a ticket email:
roof@slowdance.co.uk
with your name/names
entrance is a donation of £10
The location will be revealed on the day
DJs till late
Drinks till late
See you there.
Martha Skye Murphy 'Heroides' launch
12th Sept , 8-11pm SET, Dalston
The Epherial sounds of Martha Skye Murphy are coming to SET
To celebrate the lauch of Martha Skye Murphy's new EP 'Heroides' we're hosting an evening at SET Dalston
In 2013 she was the featured singer on Nick Cave and The Bad Seeds' album 'Push the Sk Away' and accompanied him as a backing vocalist on the respective tour.
She will be accompanied by Thomas Ragsdale, an experimental elecronic musician from Yorksire combining sensebilities of electroinc music with grand soundscapes
Taylor Skye, a singer songwriter will provide stark and honest lyricism to set the tone of the evening
£4
Martha Skye Murphy
Thomas Ragsdale
Taylor Skye
Event:
https://www.facebook.com/events/462551690915215/
https://www.facebook.com/MarthaSkyeMurphy/
https://www.facebook.com/thomasragsdalemusic/
https://www.facebook.com/taylorskyemusic/
Glows
presents a special event including live performances in the round, DJ sets and art curated by Felix Bayley-Higgins at
DIY Space for London
on the 24th May 2018
Acts performing are:
FARAI
black midi
Jockstrap
TØNE
+
Glows
DJ
Art curated by Felix Bayley-Higgins:
A pool of films, objects and images in continuos circulation. Presented through a process of rotation.
Plus zines hosted by
Grandma
:
SPIT TEASE
The Femme Collective
Autre Half
GG Skips
SLOW DANCE
Cuntry Living Zine
La Errante
Femme
Honey Pot
More Uncertain
Helena Moock prints
Selkie clothing
Kelora prints
+ more tba
Have Your Cake And Eat It 2!
11th May , 11-4:00am Tasty Bakery, Peckham
Oh god someone do something.... someone make it stop...
sure.
We return to the nations favorite Jamaican bakery for some more FREE CAKE and some more DISCO DANCING.
The cake will be way better than last time i promise...
featuring the icing on top of the cake:
£4/5
djs:
Jockstrap
3Peace
Sunken
Day W
GGSkips
+more tba
£4/5
https://
www.facebook.com/events/386335988509587/